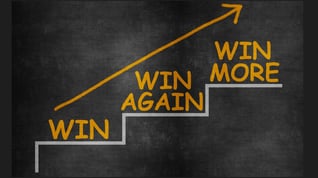 The burden of winning government contracts often rests on the shoulders of proposal managers. They manage writers, reviewers, inputs, deadlines, and hundreds of details on multiple bids at once. Proposal managers need proactive strategies to ensure a proposal is compliant and compelling, and ultimately leads to a win for their company.
Proposal managers can employ these 5 easy strategies to efficiently complete tasks and increase their company's win rate.
Reuse Information and Utilize Templates
Balance Structure and Flexibility
CLICK HERE TO DOWNLOAD PDF VERSION
Manage Data Access
Many companies use Excel spreadsheets to track their business development pipeline. Proposal documents may be stored and shared in SharePoint, via email, or even hard copy documents. As a company grows, one of the first problems to surface is data management and access. Scattering your data across different systems and tools can cause multiple problems. You may end up dealing with conflicting versions of documents. Your pipeline becomes harder to manage, and it becomes more difficult to notify your team of changing requirements, amendments, and schedule slips.
When team members do not know where to look for the information they need or they cannot access it, the team becomes less efficient. This situation forces a member of the business development team—usually the proposal manager—to spend more time answering emails, messages, and phone calls, and less time ensuring the quality and success of the proposal.
You may find that your team's tools and methods that worked well in the past do not scale and adapt as your business grows. Take inventory of your information management methods. Would a scalable platform that is built specifically for federal government contractors increase your efficiency and impact your win rate?
First, consider how long it is taking your team members to find the information they need. A few extra minutes to complete a task is not a huge impact to someone's day, but when this happens several times a day, it becomes a significant time sink. Now multiply those few minutes by the number of people on your team, and all of those five-minute delays become hours of lost productivity.
You and your team will be more efficient when all proposal data is available to those who need it, accessible 24/7, and logically arranged. Your sensitive data must have robust security with permissions and flexible user management so your team can get to work immediately.
CLICK HERE TO DOWNLOAD PDF VERSION
Reuse Information and Utilize Templates
Are you starting from scratch each time you send a data call such as a capability matrix or a teaming invitation? Instead of recreating these tasks every time, begin with custom templates that are easy to replicate and integrate into your proposal process. It's easy to create templates that fit your company's style guide or follow the required RFP format. You can be assured that future documents based on the template will be accurate. You simply add proposal specifics to the template for a fully customized document in seconds.
You can also assemble a robust library of narrative and graphic content that can be updated and reused. Use already created content as a template for initiating new writing and graphics. Create 'master plans' for quality, safety, security, management, recruiting and retention, compensation, risk management, and OCI to use in future proposals. Good content development takes many hours, and reusing content will be a huge timesaver for your team.
When you save time on tasks, you have more time to focus on activities that lead to winning contracts. Your energy can be applied to ensuring your capture strategies, customer knowledge, and win themes are prominent in the proposal.
Automate Processes
For every teaming invitation or data call, you must compile opportunity-specific details and send them to a list of recipients. You must either create these for every opportunity or duplicate a similar request, revise, and send to the team members. Since everyone on your team is likely working multiple bids, every communication should reference the bid name and number to avoid miscommunication. The proposal manager must be consistent with requests to subcontractors to ensure everyone has the information they need by the date they need it, so they can promptly respond. When you automate data calls, it solves many communication issues, it ensures you are consistent with requests, and it ensures you are using correct, up-to-date contacts.
Time saving tools can automate low-level or repetitive processes and allow you to focus on tasks that help win the contract. Often a lot of time is spent typing data into the opportunity pipeline. There are tools that automatically download your contract selections from GovWin and populate your BD pipeline. Look for one that can automatically download solicitation documents to your content management system. Your capture documents should be readily available and organized by opportunity or proposal. If you automate your BD processes, your team can get the information they need when they need it.
Once you make teaming selections and start to develop proposal content, you will assign sections to various writers. You might find yourself copying and pasting the section headings into a Word document. You may include an annotated outline for each paragraph that contains the applicable requirements so that writers know precisely which sections to address. Finally, you email or maybe provide a link to SharePoint for your writers to begin writing.
But this method requires a lot of manual tasks and takes a lot of time. After writers complete their tasks, the proposal manager removes annotated outlines to get accurate page counts for the first color team review. Until the writer returns an assignment, there is little insight into their progress. The proposal manager usually manually assembles the multi-document narrative into one document, often under a tight deadline.
There are software tools available to manage these processes, including annotations that do not have to be removed and a writer progress dashboard. Make an upfront investment and implement a system that reduces manual tasks. Your work will be more accurate and more efficient. You will be able to submit more proposals and hopefully win more contracts.
Here are other innovative capabilities that automate tasks for proposal managers:
Create a library with a dashboard to track Non-Disclosure Agreements, Teaming Agreements, and other data calls. This makes it easy to send multiple data calls to teammates, and gives immediate status feedback. An automated process means you upload the template, send to subcontractors, and repeat the process without reinventing the wheel.

Use a tool that includes Notifications to keep the team up-to-date on their assignments without checking multiple sources to mentally aggregate data.

Use templates that automatically incorporate opportunity data into email communications and presentations.

Leverage the power of Microsoft 365 and custom Word add-ins to auto-generate writing assignments mapped to Sections L, M, the PWS, and other proposal sections.

Automatically generate review documents from multiple writer packages with integrated reviewer ratings.
Balance Structure and Flexibility
When you use a platform designed specifically for winning government contracts, your team can focus on what goes in the documents instead of becoming sidetracked by the process. A software tool should provide structure to keep you on track and also adapt to your company preferences. A software tool should have customizable features that permit you to:
Add users and permissions based on their role

Set user permissions across the company, division, or for select opportunities

Integrate subcontractors in the process
Customize naming convention of BD phases or stages
Formalize a process to qualify opportunities
Determine P-Win
Set criteria to advance opportunities to the next phase
Modernize Color Team Reviews
Color Team Reviews have been around a long time. It is common practice to give each reviewer a draft document where they independently make comments and updates. Microsoft Office handles the review process well, but aggregating the comments from all reviewers is a much longer, more complicated manual process. This takes a lot of time and can lead to mistakes and oversights. When reviewers use Track Changes for edits and comments, you can identify comments by reviewer. However, when you merge multiple sets of tracked reviews into one document, you lose insight into who made what comment, and often spend a lot of effort de-conflicting comments.
By enhancing your review process, you can improve your proposals and win more government contracts. A software tool to assist with technical aspects of document review will allow you to focus on proposal content, instead of collaboration mechanics. A software tool will also help to eliminate human error and will reduce the time you spend on manual tasks.
Summary
Success is measured with a contract win and the proposal manager's role is key to winning contracts. As the proposal manager executes many tasks on a tight deadline, they can employ successful strategies, including:
Manage data so it is easily accessible and secure.

Reduce manual tasks that can be replicated with custom templates.

Automate processes with a software tool designed for government contracting.

Ensure processes balance structure and flexibility.

Spend less time on low-level tasks and create more time to focus on the high value tasks.
Integrating your efficient processes with the right software tool will help your team to submit better proposals in less time and will put you on your way to winning more contracts.