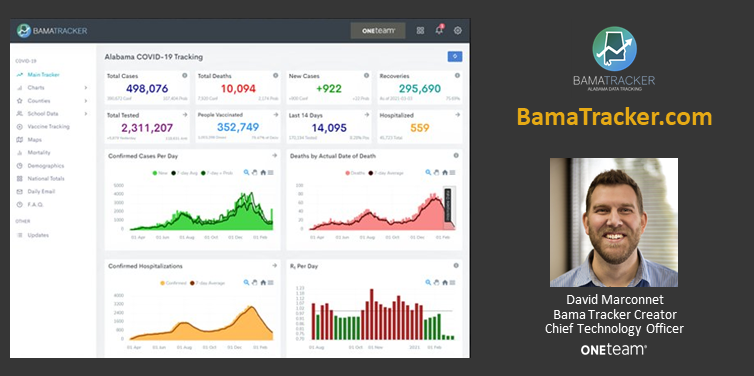 In March 2020, OneTeam's Chief Technology Officer and computer software engineer, David Marconnet, created the website Bama Tracker to compile COVID-19 data from the Alabama Department of Public Health (ADPH). One year after Covid-19 was declared a pandemic, Marconnet continues to compile ADPH data and add new features. Bama Tracker is updated daily and provides statewide and county charts, maps, and graphs as well as vaccine data.
A Huntsville native, Marconnet says, "I'm trying to make the data as clear and simple as possible and make the tool mobile friendly, fast and easy to use."
Marconnet was selected as 1 of 20 "Alabamians Who Made a Difference in 2020" by AL.com in December. He was also featured in The Auburn Plainsman on March 5th.
Marconnet was honored by the Alabama House of Representatives with HR68, a Resolution commending Marconnet for creating Bama Tracker to track Alabama statistics. It was sponsored by Representatives Andy Whitt, Rex Reynolds, Laura Hall, and Howard Sanderford and approved and adopted by the House on February 25, 2021. Representative Whitt delivered the Resolution to Marconnet on March 6th. Marconnet stated, " I am so incredibly honored by this! Thank you to the state of Alabama!"
For a complete list of news articles about David Marconnet and Bama Tracker, visit Bama Tracker FAQ.