No matter your size or socio-economic status, there will be times where you need to either work as a subcontractor for another company or find great companies to subcontract your work out to. This is true for federal government contractors and GSA Schedule holders.
There are a number of reasons you might find yourself in a subcontracting situation. Maybe you're a small business that has outgrown the NAICS code for some work you're currently performing, and you need to back a teaming partner to prime and win your work back. Or, you could be a perfect fit for an opportunity you've found that's scheduled to come out in 18-months or so, but it's set aside for a company with a socio-economic status your company doesn't hold. At other times, you'll need to find subcontractors because you're preparing to bid on a large opportunity that includes a small business subcontracting plan. No matter the situation, you need to find teaming partners that give you the absolute best chance of winning the opportunity… after all, any percentage of a proposal you don't win is still zero.
Don't Rely on Your Mental Contact List in capture management
The old-fashioned way to do this is to rely on your business development and capture manager to mentally go through their list of contacts they've accumulated over the years to come up with that "8(a) in the D.C. area with strong computer programming quals (NAICS 541511) and good FEMA past performance," or that "small business that is strong in hardware engineering for NASA, is well known at Marshall Space Flight Center, and has good past performance doing Engineering Services (NAICS 541330)."
Now, we've all seen folks with amazing memories who seem to know everyone, but there are more than 400,000 contractors registered to do business with the federal government. Even in a smaller city, like Huntsville, Alabama, it's impossible to know everyone and what they're all good at. If you're one of the big companies, you probably have a small business supplier/diversity database system that may or may not be up to date with the companies you've talked with. But even if it is up to date, it's limited to just that… the companies your company has talked to.
OneTeam Streamlines the Government Contract Search Process
What if you could use data to make those initial screening decisions above? Now you can. Thanks to OneTeam's built-in search functionality, you can leverage data from the Federal Procurement Data Source (FPDS) and System for Award Management (SAM) to find those teaming partners – all via a centralized, easy-to-use search interface.
Let's take the first example with the 8(a) company. OneTeam lets you search for SBA-certified 8(a) companies that are headquartered in the D.C. area OR have primed work in the D.C. area (your choice), that have prime past performance in NAICS 541511 (computer programming), and that have prime work where the FEMA was the customer.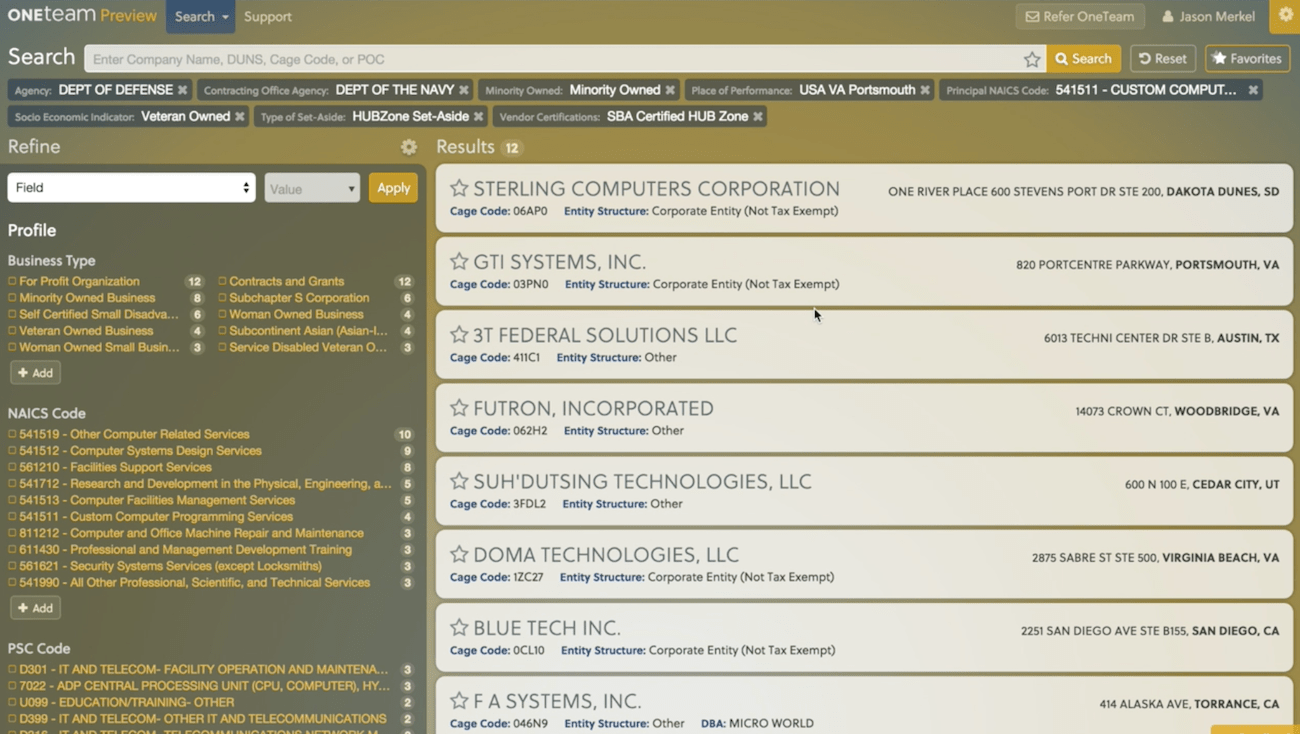 This search is all done on one screen, even though it's pulling data from both FPDS and SAM. Something this specific might only result in a handful of companies (eight, to be specific, based on my own search conducted on September 10), but it gives you a solid list of possible primes (and your most viable competitors) to start from. And the search takes less than 30 seconds, start to finish. Additionally, you can do your initial research on the companies right within OneTeam, likely cutting those eight in half before you actually start making phone calls. The same applies for the "small business at MSFC" example.
If you're a large prime with a small business subcontracting plan to meet, you can benefit from the same search capabilities. While you likely have relationships with many small businesses that could do the work and "check the boxes," you want to maximize your PWin in the selection of every subcontractor. OneTeam is an integrated business development pipeline, capture management, and proposal management software platform that can certainly help you do that. Find the full spectrum of best possible teaming partners that match the criteria and then pare down from that list to create the best team.
OneTeam search gives you the ability to find the right government teaming subcontractor, the perfect prime contractor, vendor, or joint venture partner. Once you find those teaming partners, be sure you implement a successful capture strategy to help you shape the procurement and win the contract!
Watch a demonstration of OneTeam's Search functionality or Company Search functionality.