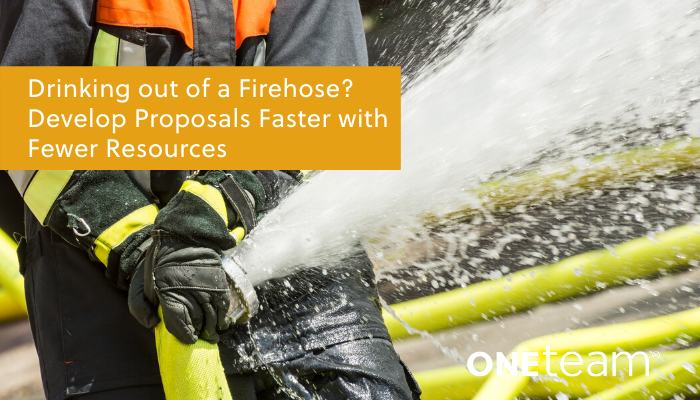 The recent influx of opportunities looks promising for contractors, especially considering the overall state of the economy due to COVID-19 and its effect on the global economy. Combined with an increasing number of new and revised regulations (including the long-awaited CMMC certification), government contractors may be feeling overwhelmed with the process of balancing the two. To keep up with reviewing opportunities and developing winning proposals, business development teams are stretched to the limits, working from home, and possibly using antiquated or inefficient tools. Does the term "drinking from a firehose" ring a bell?
But what you could accomplish all the difficult parts of government contracting with fewer resources, more efficiently, and with more success? This can be done with the right tools. Let's dive into the challenges faced by government contractors in creating proposals, and discover how the right capture management and proposal automation software can save time, money, and increase win percentages.
Challenges within Proposal Development
Knowing What to Bid On — Sorting through GovWin opportunities, no clear qualification matrix, not customized to your specific needs.
Inaccurate Pipeline — information isn't current, inaccessible to team members, inefficient process to capture best opportunities, wrong data tracked.
Tools are not integrated — information is lost in the cracks between systems, you cannot see everything clearly in one application.
No methods for inclusive communication — cannot keep your own team members in the loop, much less your partners. Unable to communicate during proposal process.
Writing is so complicated that at times a proposal cannot be finalized quickly — no way to create a cohesive document without multiple reviews and arduous edits by contributors.
Solutions in Proposal Development—The Right Tools without a Ton of Resources
Maximize the Partner Search Process
There is an enormous selection of contractors in the GovCon industry and finding the right one—in addition to presenting your own team as a potential partner—is a daunting task. With OneTeam, contractors can create a profile which lists up front all of their capabilities, experience, past awards, and other details which make teaming up easier, and lead to a more successful partnership. Instead of providing this information for each potential contract (like re-writing your resume repeatedly), contractors have a complete profile, making the vetting process faster.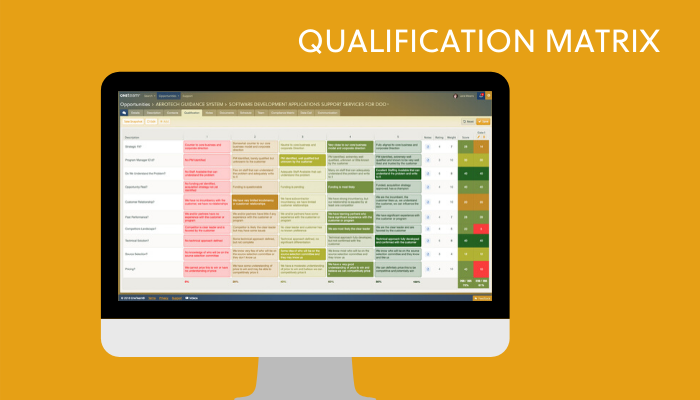 Create a Custom Capability Matrix
Opportunities have specific requirements and although as the prime contractor, you may have many of the qualifications, you are likely looking for the right teaming partners to present the winning team. The Capability Matrix offered by OneTeam allows you to sort through potential partners to find their capabilities for each specific opportunity requirement. With the options to narrow the capabilities, you can determine the value of each potential teaming partner, ranking each one and creating the best combination for the opportunity.
Import Opportunities from GovWin
Although GovWin is not the SOLE source of opportunities, you will find the majority of them here—that's why you are subscribing to it, right? So take advantage of the data found in this extensive database directly to your own software, so you can sort (and even update if you have more current information) the opportunities easily. Since GovWin isn't a true pipeline, with your OneTeam software, you can organize the information in your own database, and can access it to manipulate opportunity data for your specific needs.
Utilize a Streamlined Communication Platform
Let's face it, there can be a LOT of people involved in a government contract bid. Keeping everyone informed of the process, knowing that they have met their deadlines and provided information necessary to keep the process moving is made easier with a single communication platform. This prevents information from being lost or conflicting versions of important documents from floating around. The OneTeam communication platform offers multiple advantages to large teams, including:
Customized templates & messaging options (only send messages to those who need them)
Tasks for each specific team member
Activity feed offering notifications and historical actions
Notification when messages are received & any links clicked
Data population for emails (no need to re-enter data—its easily added to communications)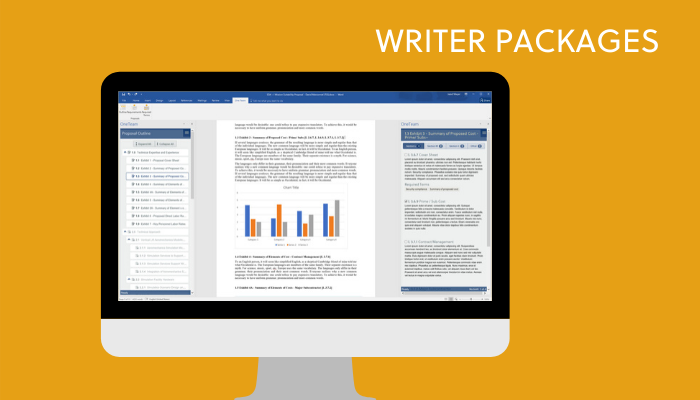 Writing Made Easier, Even in Large Teams
With multiple contributors, composing a writer package is the final hurdle in the bidding process. Keeping writers on track and merging the multiple parts into one document is hard with so many "hands in the pot." With the OneTeam platform, you no longer need to copy and paste the different contributor's sections into the main document, yet writers can download their specific document to make writing and editing easier. With a Word add-in, requirements are displayed so all parties know which writers are on task and which ones still need to contribute.
Real-Time Reviews
Traditionally, bid reviewers would each be given a copy of the document to look over and revise during a process similar to Shipley color team reviews. This time-consuming process was quite redundant, with different people spending time pointing out the same concerns repeatedly. With OneTeam, collaborators can view each other's comments in real time, allowing a more efficient approach to necessary edits. Common suggestions are found in each section, so writers can access them as they made the recommended changes. A final document is easy to prepare as the comments are removed to present a clear and concise bid.
Turn Off the Hose with OneTeam!
Government Contracting is a fast-paced industry, even if the proposal process seems long and arduous. Managing your potential opportunities with the ever-changing landscape of government regulations and compliance issues is challenging without effective tools. However, in the current economy, company resources are stretched thin. The comprehensive approach OneTeam offers can help your team slow down the firehose of opportunities, keeping you organized and allowing you to customize the software to your company's individual needs. The intuitive dashboard OneTeam presents your team members with one central location to access the many stages of your proposals, with search, capture, and bid all in contained in a single system. The communication platform and writing tool features take this one step further, keeping all partners fully informed throughout the bidding process and ensuring not a single member of your proposal team is choking! Turn the water down with OneTeam!
Download 5 Easy Ways to Increase Your Proposal Win Rate and implement efficient proposal processes to help you win more business!