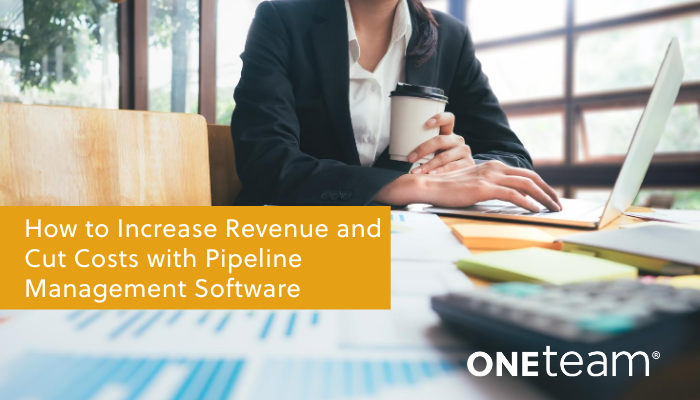 Success in the government contracting industry can be measured in several ways. You may bid on—and win—many opportunities, you may bring in a significant amount of revenue, or you may be able to cut many costs to be more competitive. But, can you balance these success indicators? To be confident in your ability to do this, you might be ready to invest in the right tools to improve your contract win rate, increase your revenue, and cut costs.
You are many methods to improve your business process and increase revenue while cutting costs, but let's dig into some of the most significant areas of government contracting where opportunity pipeline management tools can make a difference.
Market Yourself
We all know that competition is fierce in the government contracting industry. With thousands of contractors spread across the US (and internationally), having a clear, engaging profile helps make you attractive for potential teaming opportunities. Include extensive certification details, capability briefing, award history, and an exceptional company profile to help you get noticed. By improving your visibility to potential partners with a clear and informative profile, you dramatically increase your odds of finding a successful partnership. The ability to highlight your company's strengths in a capability briefing allows you to stand out among competitors.
Find the Right Opportunities
There are many steps to find the right opportunities for your company. A customized qualification matrix will help you narrow down opportunities based on designated filters. By continually qualifying potential opportunities, you can narrow down potential opportunities to help you choose those that are a good fit for your company's experience, certifications, and capabilities. With customization options in OneTeam's Qualification Matrix, you can rate the opportunity based on different categories you have established. This allows you to measure every opportunity against the same company standards objectively. Finding a good opportunity to bid is a goal for many contractors. But finding a good opportunity to bid with a high PWin, with the desired revenue, and allows you to control your growth and scale resources is where you will find more success.
Find the Right Partner
With thousands of potential partners in the industry, it is time-consuming to sort through exhaustive lists. Sorting for partners with a variety of relevant filters, including NAICS codes, awards, location, and experience, not only speeds up the process but increases the odds of finding a successful match. You can now bid on larger opportunities by creating a multi-company team with many capabilities to handle the entire project. By saving these searches, you reduce the work in searching in the future.
Streamline CommunicationS
So much time is wasted trying to chase down partners in complex opportunities. Keep your team—and your partners—with a platform that manages all aspects of the pipeline (including communication) in one place. OneTeam's templates simplify repetitive communication styles, and autofill options standardize correspondence with data requests. Automatic notifications ensure no vital communication is lost; users see the latest conversations and data shared when they log into the OneTeam activity feed.
Manage Data More Effectively and Prevent Lost Opportunities
Static spreadsheets and multiple pipelines slow down the process and prevent nimble decision-making. Static data without cloud-based access forces contractors to ask for information from potential partners continually, and team members are left wondering if the data they are reviewing is accurate and current. The integrated OneTeam system keeps all opportunity details in a single platform, providing all participating team members with a real-time view of the process. You have the control to keep your data secure as you manage data access for your team IAW CMMC requirements. Timeline management ensures that deadlines are met, preventing revenue losses.
Automated Writing Tools
To win government contracts, you must know how to respond to government RFPs. Once you have decided to bid on an opportunity with your new teaming partners, the writing process is one of the final steps in the long road to a winning proposal. With so many different participants, it can be an overwhelming task to put together each writer's portion of the proposal. In traditional proposal writing, reviewing is long and repetitive, with so many eyes (and opinions) on the extensive document. Deadlines and changes are difficult to track, and a lot of "wheel spinning" and redundancy abounds. By using the OneTeam platform, writing packages are not only "multi-writer friendly" but provide collaboration tools to allow writing teams to work on their portion of the bid, then bringing all the sections together for review and revision.
Plan for the Future with Analytics and Forecasting
You need more than just a bunch of data to forecast effectively. To take your planning to the next level and manage your future company needs in terms of manpower, resources, and scheduling, you need the metrics to show you what is in your pipeline, both in the near and far future. The data itself is good, but having tools to understand what the data means and how to use it for better planning enables you to forecast your company's revenue and opportunity streams. The new OneTeam Analytics module gives you a wide variety of customizable reports to offer you views of your opportunities, filtered by size, contract type, customer, and much more. With the ability to see your opportunities in various stages of the process, you can save resources and make critical planning decisions for short- and long-term usage.
Pipeline Management Software—the Key to Your Success
As you can see, there are multiple areas where your organization can cut costs and increase revenue. The right pipeline management software platform offers you the tools for a more in-depth view of how your company finds, bids, and wins opportunities. A streamlined system like OneTeam combines all of the important parts of a successful management system, boosting your search capabilities for both opportunities and teaming partners, and supplying a communication platform which keeps all members informed of the process, simplifies the sharing of data, and ensuring that participants are continually updated and able to inform the team of their portion of the bidding process. OneTeam supports the entire business development lifecycle, including opportunity capture management.
The OneTeam software for government contractors goes beyond generic pipeline management software with industry-specific features designed for government contractors. With a combination of tools for searching, bidding, capturing, and analysis, your team has a complete package to maximize your opportunity pipeline utilizing fewer resources. Maximize your presence and find the right opportunities and teaming partners, keep detailed information on your opportunity pipeline, achieve better communication and proposal writing among teams, and have access to extensive data and report-building for the most accurate forecasting with OneTeam.
To learn more about OneTeam and discover how our features can give you an advantage in developing your next proposal, download 5 Easy Ways to Increase Your Proposal Win Rate.